SUV Fleet Leasing

A sport utility vehicle is a versatile and efficient fleet option for on and off-road conditions.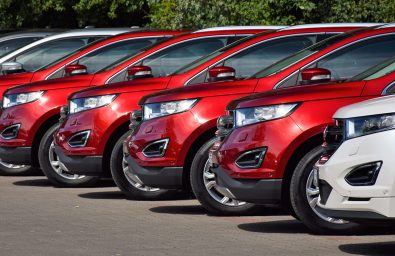 A sport utility vehicle offers best of both worlds: the convenience and comfort of a road-going passenger car, with features like raised ground clearance and four-wheel drive for tougher terrain.
SUV Fleets are available in a variety of sizes and styles suitable for work or play. Reach out to a Pro Fleet Advisor to discuss your fleet options.
SUV Fleet Vehicle Makes & Models
We offer a variety of different makes and models to choose from, so you're sure to find the perfect one for your needs.The most popular SUVs are as follows but if you don't see the make or model you're after, we probably can find it for you!
SUV Fleet Make & Model:


The Ford Escape, Ford Expedition, Chevy Suburban, Chevy Tahoe, GMC Denali, Range Rover HSE, Range Rover Sport and the Cadillac Escalade.
SUV Fleet Vehicle Applications
SUVs are a great choice for companies who want a jack-of-all-trades fleet vehicle. SUVs offer the passenger space and fuel efficiency of a car with the towing and off-road capabilities of a pick-up truck. If a versatile, yet comfortable 4-wheel drive vehicle fits into your fleet plan, talk to a Pro Fleet Advisor.
SUVs suited for your foreman, executives, and upper management.


Other applications include delivery, contractors, and chauffeuring.
Our simple spec process takes into account the vehicle user, fleet team, and supply chain, so you can customize exact fleet specifications you need to cover all the bases.
Key parties include:
Dealers, body mounted equipment companies, vehicle upfitters, and fleet management companies. Contact our Pro Fleet Team today for more guidance on creating an effective SUV fleet to your specifications!

Our industry-leading five-business day delivery program says it all. We're confident we can provide rapid acquisition and delivery of the SUV fleet you need. Contact one of our Pro Fleet Advisors today to learn more!
More responsive turnaround times than our competitors.


Ready to be delivered, Nationwide, 24/7.
SUV Fleet Vehicle Popular Builds
Your Fleet of SUVs are custom for each service you provide. Contact us today to learn more about how we can help your business succeed! Below are the available options and industry common builds.
Examples can include but not limited to:




Custom Decalling, Window Tinting, Roof racking.
Frequently Asked Questions
You would only lease a fleet of brand new SUVs when your upper management and executives require them. They are not the work capable vehicles like pickup trucks and cargo vans.
You absolutely can. They will take whatever conditions you put them through as they are very similar to pick-ups in their ability. But it could cause more damage to the interior and void warranties. So a comprehensive maintenance package would be recommended beforehand.